About Us
A Step Above Dance Academy
offers dance classes for all ages and levels!  Pre-school dance to Advanced classes in Ballet, Tap, Jazz, Hip Hop, Contemporary and Yoga.  At A Step Above Dance Academy, we strive to give a well-rounded, high-quality dance education, while also instilling self-confidence, creativity, respect, and an admiration for the arts in all students. Each student will feel special and talented every time they step into a class. Our professional faculty encourages their students to use dance and artistic expression to live a rich and enduring life.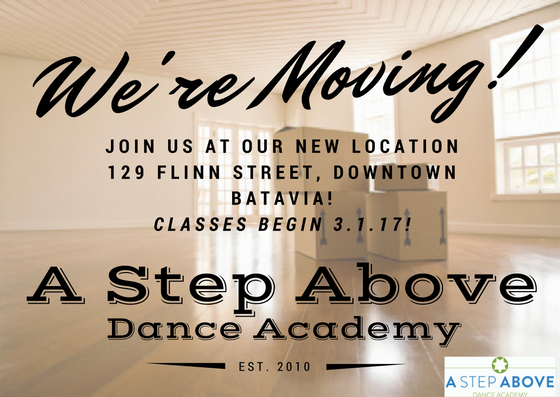 We are thrilled to announce that ASA will soon have a new home!
Beginning March 1, 2017, all A Step Above Dance Academy classes will take place in our new home – 129 Flinn Street in the heart of downtown Batavia! Classes will continue to run as scheduled in our current location while our new home is renovated. We are so happy to be moving into a NEW, beautiful, and CUSTOM home and look forward to sharing this step with our ASA families!
Our NEW home will feature…
-6,200 sq. feet …the largest dance studio in Batavia
-4 large, CUSTOM built studios
-Sprung marley floors
-Spacious parking lot
-Large dressing room and comfortable parent seating
-Fully air-conditioned
-And more!