ASA Alumni Dance Diary: Chloe dominates her day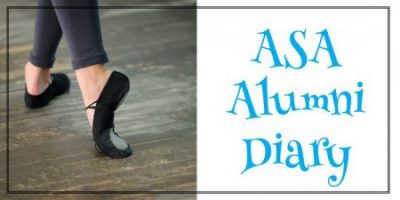 Tuesday, October 25, 2016
Something good actually happened in my theater class today. I got 23.5/22 on my quiz!! After class, I have an hour and forty-five-minute break, so I went in the empty studio and stretched and ate a snack. I'm so glad that I had time to stretch because I felt so much better in ballet. My Achilles did not bother me as much, which actually allowed me to get through the whole class without feeling much discomfort. So that was a nice change.

I also had a really great class. I wish I had that time frame before class to stretch every day because it really made a difference. We did a battement combination with cambrés which made me think of my ballet classes at ASA.

I've been really missing the studio lately, but I like it here too. I'm getting closer with the faculty and other dance majors/minors which is good, but I do miss ASA so much.

I had another break in between ballet and modern, so my friend and I went to go get lunch. Horton was fun, but we did one of the difficult combinations from last week again which was still confusing. It was definitely better than last week, but the different weight transfers and direction changes make it a little more complex to grasp.

After modern, I had a break and went to the bookstore and bought a noodie.

Then, I went back to my dorm to start some homework before rehearsal. We just continued cleaning our dance. Also, the girl who missed two rehearsals is still in the dance. Personally, don't think it is fair considering everyone else is at rehearsal and the understudy had her hopes up that she would be in the show, but I don't know… Other than that, rehearsal was fine especially since we got the earlier rehearsal time again.

After that, I went back to my dorm and finished the rest of my homework.
–  Read Chloe's next entry tomorrow-
– Start at the beginning of Chloe's college journey –
Save
Save
Save