ASA Alumni Diary: Chloe – Sleep, surprise visits, and FAMILY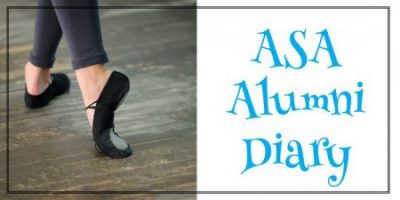 Saturday, October 15, 2016
I finally got an adequate amount of sleep last night! Today was a nice break from dance classes and rehearsals. I went to the football game today. Unfortunately, NIU is not doing very well this year, but I still enjoy going to the games. After, my two best friends since kindergarten surprised me at campus. We went to the apple orchard and went out for dinner. I'm so glad they surprised me with a visit!
Sunday, October 16, 2016
My morning consisted of doing laundry. However, it becomes even more unenjoyable due to the location of our laundry room. It is in the basement of our dorm and is very creepy. It looks like it could be in a horror movie which makes doing laundry worse.

After the laundry, I had a three-hour rehearsal. We started rehearsal with barre to warm up. However, we danced to popular music today instead of the regular pianist music which made barre more fun. Our professor was in a very good mood, until someone showed up a half hour late to rehearsal. Since she was upset, we had to run sprints around the studio…

From there, we spent the majority of the time working on spacing and timing for the Coda. Then, we ran the entire ballet in order of the dances. It was exhausting especially since the studio felt like a sauna. Luckily, we were let out fifteen minutes early which gave me enough time to shower before my mom picked me up.

We went to the grocery store on our way home and stopped for coffee. Once we were home, I helped my mom make dinner and spent time with my family.
–  Read Chloe's next entry –
– Start at the beginning of Chloe's college journey –
Save
Save
Save
Save
Save
Save
Save