ASA Dance Classes In Batavia Move To New Location
Get Ready For Even More Dance Classes In Batavia – We're Moving!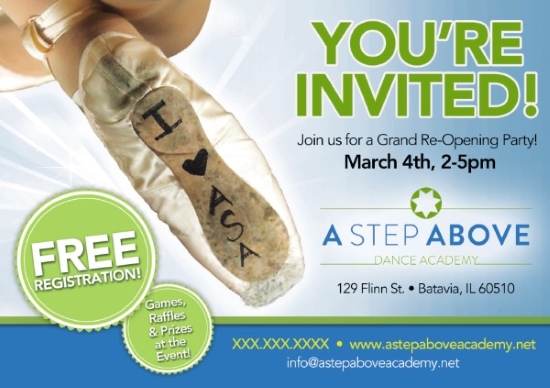 We are so excited to share that A Step Above Dance Academy is moving! Our new location is still in Batavia, right in the heart of downtown. On March 1, 2017 we will open our doors at 129 Flinn Street. In the meantime, we'll still be offering dance classes in Batavia at our current location.
Custom Designed For Dancing
One of the things we are most excited about in our new location is the level of customization that has gone into renovating the space. We have been able to renovate the existing building into 4 custom-built studios that are perfect for dancing. We'll have sprung and Marley floors, mirrored walls, dance mats, barres, a bigger dressing room, and all the other accessories that dancers need to practice and perform.
The sprung and Marley floors are beautiful and really create a professional feel in the studios – your little dancer can close her eyes and imagine she is dancing with the stars!
The floors are also shock absorbent, which reduces impact on the joints and decreases fatigue; making it possible to dance longer with less strain on the body. They are impact and slip-resistant and versatile, perfect for everything from ballet to tap. We are eager to get in there and try out the flooring ourselves!
Parent Comfort Was A Top Concern
You asked and we listened! One of our biggest concerns was making sure we had a great space for parents to wait while their kids were dancing. We are happy to report that the new studio has a comfortable parent seating area and on-site parking, making it easier to get in and out of the studio and more comfortable to wait for your little one's class to be over.
Expect More ASA Dance Classes In Batavia
At 6,200 square feet, A Step Above will be the largest dance studio in Batavia and we plan to make best use of the space by offering more dance classes in Batavia! We will continue to offer classes from preschool to adult in Ballet, Tap, Jazz, Hip Hop, Contemporary, and Yoga, but we'll do so much more too!
The new studio will allow us to offer more classes at more times, provide more one-on-one and small group attention, and maybe even branch out into new things. We will continue to provide a well-rounded, high-quality dance education for our dancers and encourage a joy of dance!
More Dancing, Thanks To You!
We are so grateful to our dance families for making A Step Above Dance Academy a success! We couldn't have done it without you!
We will keep you posted about the move but for now, we are planning for a March 1 Grand Opening at the new location on Flinn Street.
Contact A Step Above Dance Academy at 630-326-9600 or visit our Classes page to learn more about our dance classes in Batavia! Check back frequently to see if we have added classes!