Beat Stress With Dance Lessons In Batavia | A Step Above
Stressed Out? Dance Lessons In Batavia Can Channel That Stress Into A Healthy Outlet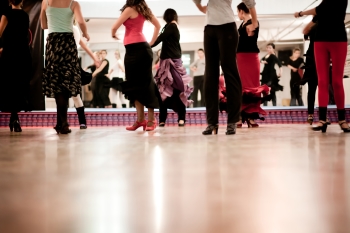 There's no doubt that we live in stressful times, but that doesn't mean you need to live with stress. Dancing is a terrific stress reliever, no matter what your age or skill set. Our dance lessons in Batavia are available for toddlers, kids, teens, and adults and we have seen people at every age achieve emotional benefits from dance.
Teens And Adults
Exercise has been recognized as a great stress buster for decades. Whether you run, lift weights, swim, or dance, the endorphins released during exercise make you feel better. Dance has the additional advantage of requiring concentration, which means you can get out of your own head and forget your worries for awhile while you concentrate on your dance steps.
Another way exercise and dance, in particular, help relieve stress is through the use of music. Who hasn't popped in some earbuds while jogging or working out or just to relax? Music is instrumental to dance, which provides a two for one stress relieving benefit.
While our dance lessons in Batavia can be a great way to learn a new skill, get some exercise, meet new people, and relieve stress all at the same time, formal lessons aren't required to benefit from dance's stress-busting benefits. That's the beauty of dance. Anyone can do it anytime the urge strikes.
Which Dance Lessons Are Right For You?
If you do decided to pursue dance lessons in Batavia with us, you'll want to choose a class that aligns with your personal style. We recommend the following lessons based on your exercise preferences:
This is a great option if you like yoga and Pilates. Ballet features coordinated movements, concentration, and a focus on form and strengthening muscles. It's a very meditative form of dance.
Contemporary dance combines features of ballet with modern moves and techniques for true performance art. It's an excellent choice if you enjoy the control of ballet but would like to spice things up a bit.
Hip Hop. If you want to get movin' and get groovin' hip hop is the right class for you. Many different styles of dance are explored in this genre giving you a well-rounded workout that will get your heart pumping and your muscles working.
If you want an upbeat, energetic dance class, try Jazz. You'll get to experience a range of dance styles, tempos, and movements that will leave you feeling loose and relaxed. A good choice if you love music of the '50s and '60s, swings, bunny hops, and jitterbugs.
Closely related to jazz, tap dancing is recognized by the heavy use of shoes and the floor to create your own percussive instrument. If you are a toe or finger-tapper or an air drummer, tap dancing is the right fit for you.
What About Younger Kids?
While toddlers and younger kids may not seem to have much stress in their lives, they do benefit from the freedom of movement dance allows. This is especially important if the kids spend a lot of time in car seats or in situations where they are not free to move around frequently. Through dance, young children are able to explore the joy of movement and express their emotions in a safe and healthy way.
Learn More About Our Dance Lessons In Batavia
If you are looking for a new way to beat stress and think dance could be it, contact A Step Above Dance Academy at 630-326-9600 to learn more about our dance lessons in Batavia. We will work with you to place you in the right class to fit your experience level and your personality.