As we gear up for performance and recital season, I remember a simpler time when all I had to focus on was dancing. I got my first real glimpse of studio ownership the more time I spent there and despite the fact that organizing an annual studio showcase seemed like a daunting task, I wanted to do it.
If you are considering being a studio owner and hosting a yearly recital – fantastic! I come to you today to offer practical tips for success in planning and a snippet of the director's prospective. This year-long plan incorporates everything I have learned in school: budget making, problem solving, PR, logistics, time management, resourcefulness, yogic breathing…
1 year out:
– Start looking for venues and book your date. Spring recitals book fast, so don't drag your feet on snagging your preferred date and venue.
– Set a budget, set a budget, set a budget.
6-8 months out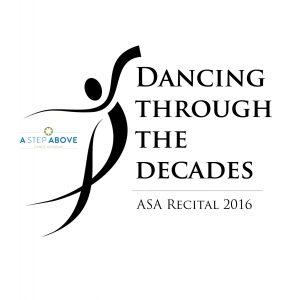 – Research and select your theme.
– Meet with studio teachers to pick music and costumes.
– Confirm ship dates with costume company, make sure costumes stick to your budget.
– Create preliminary packets of recital information and distribute to parents and students.
– Measure all students for costumes. At ASA we do not do costume exchanges, we suggest a seamstress for any alterations.
– Start looking for vendors, flowers, DVD sales, and a videographer.
– Begin music editing.
– Rally top notch parent volunteers.
3-4 months out
– Map out the logistics of the recital. Assign individual dancers to specific dressing rooms, know exactly who will be where, anticipate where teachers will be stationed for dress rehearsal and show day.
– Create show order and programs, thinking about show order and be mindful of quick changes, making sure all kids get breathing time.
– Confirming all the vendors, venue, costumes, etc.
– Review budget.
2-3 months out
– Costumes are in! Ensure all students are picking up their costumes and have tried them on for fit.
– Decide on how you will distribute recital tickets. TutuTix.com is an amazing company that makes ticket sales for performances SO easy!
-Be in contact with your teachers and volunteers. Make sure everyone knows their duties, stations, and are on the same page!
A week before the show
There is so much to do before the week before the show, so keep on with a positive attitude of excitement!
– Print programs in not done ahead of time.
– Encourage staff.
– Confirm with parent volunteers and teachers.
– Make sure you have a large vehicle to get all of your supplies to the venue.
– Box up apparel and items to be sold in the lobby.
-If you take credit cards on site, make sure your terminals are ready to go. If you only take cash, make sure you hit the bank for small bills.
– Field phone calls to personal cell phone.
– Calm staff, parent, and student nerves.
-Sleep when possible.
Tips for new studio owners:
Buy a physical calendar and write all deadlines on the appropriate date a year ahead.
Befriend a veteran studio owner.
Breathe.
Facebook is great for support and resources. Seek out teacher and studio owner pages.
REV UP BRANDS (formally Revolution Dancewear) is based in Niles and has AMAZING costumes.
Remember to HAVE FUN! All this hard work will pay off on opening day!
Live. Love. Dance.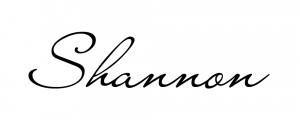 This holiday season is an exciting time for gift giving and receiving. There are so many ways to gift the dancer and further foster this love of the performing arts. Here are 8 of our favorite expressions of gratitude and love to present to the dancer in your life:
1) A new dance bag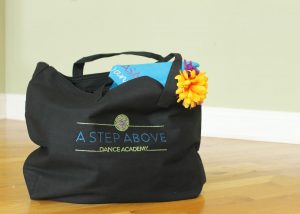 Let's face it – dance gear smells! And no matter how often you clean out your bag or wash your tights, that funky odor never seems to get out of a dancer's bag. A favorite for performers is a bag that has different compartments. Bags with lots of pockets give dancers a place to keep shoes separate from hair accessories and a small snack. (Bag found in the ASA Boutique)
2) A little relaxation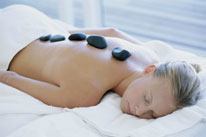 This long holiday break is the perfect time for dancers to rest up and replenish their worn bodies. A massage would be the perfect gift for a serious dancer. In our constant mission to support local businesses, why not try a massage or body treatment (with Aveda products!) from our neighbors at Katrina's Salon and Spa? A hand/foot massage or a deep tissue full body massage is sure to be appreciated and a pedicure would do wonders for sore and calloused feet… (Image credit, Aveda.com)
3) New dance gear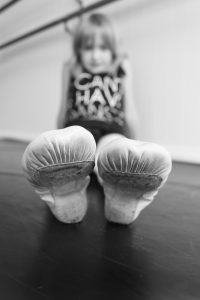 Leotards, tights, spandex shorts, leg warmers, shoes…you name it! Dancers can wear out a pair of tights in no time, so why not fill up their dance drawer with some fresh gear? (PS – the ASA Boutique is stocked with new dance gear!)
4) Hair Accessories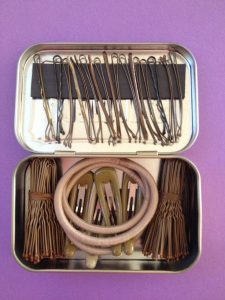 Wearing a bun every day can get boring for a female dancer. Think fun hair accessories like a new headband, bow, or flower. Let's also remember that performers go through hair ties, bobby pins, and hair nets like there's no tomorrow! A box of new hair accessories could be the perfect gift for your dancer OR try upcylcing an Altoids container to create a "Bun Box" like this one we found Pinterest.
5) Books/DVD's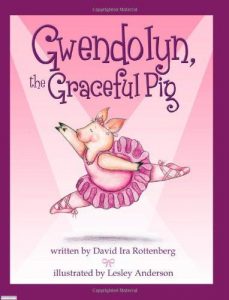 You'd think hours upon hours of being in the studio would be enough for a dancer, right? Nope! Dancers LOVE watching their favorite ballet on DVD in front of a warm fire with some hot cocoa. For the dancer who enjoys reading, why not gift them a book about dance? Some of my favorites are Life in Motion: An Unlikely Ballerina by Misty Copeland, Apollo's Angels; A History of Ballet by Jennifer Homans, and The Ballet Book: Learning and Appreciating the Secrets of Dance by The American Ballet Theatre and Nancy Ellison. For young dancers in the making, why not an Angelina Ballerina book or the whole series of Gwendolyn, the Graceful Pig? (Image credit, Gwendolyn the Graceful Pig website)

6) Dance Inspired Ornaments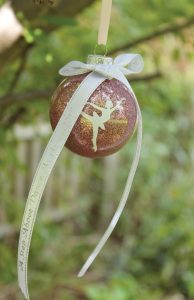 Some of my most cherished Christmas decorations are beautiful dance ornaments. You can find ballerina or pointe shoe ornaments almost anywhere Christmas decor is sold. Want to step it up a notch? Search online for a Swarovski crystal ballerina ornament. I can promise it'll be front and center on your dancer's Christmas tree for years to come. (Christmas ornament available at the ASA Boutique)
7) Private Lessons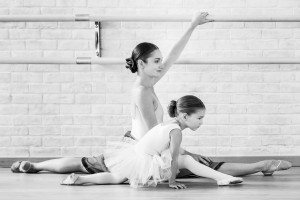 Teachers looooove working individually with students, and dancers can take away so much from a private lesson. Some one-on-one time where your dancer is receiving personal instruction could be just the burst of direction she needs to advance to the next level of performing, or to fine tune skills that have been weighing on her during practice.
8) Studio Apparel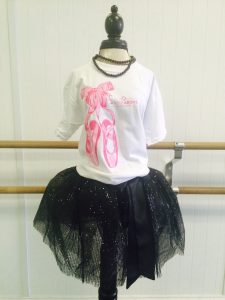 Dancers love to show off where they dance – and there is no better way to shout from the rooftops about your love for your studio than with new studio apparel! T-shirts, sweatshirts, water bottles, headbands, etc., you can't go wrong with custom studio gear. (Image, youth t-shirt available at the ASA Boutique)
Live. Love. Dance.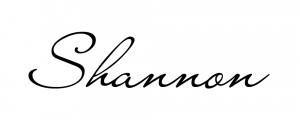 All dance teachers experience the occasional eye roll when it comes to enforcing dress requirements in class, but as an art form, dance warrants a level of respect from students. Each genre of dance has their own "uniform" so to speak, with some being more direct in expectations like traditional Ballet, while other forms leave room for artistic expression and interpretation like Hip-Hop.
Beyond stepping into your dance form's costume, dance etiquette in regards to clothing focuses on safety and allows each teacher to initiate proper training. Like any other activity, the gear always seems expensive, but today I will not only give you a peek into why dress requirements in dance are so important, but where you can get reasonably priced dancewear.
Hair
Some teachers live in perfectly executed ballet buns, but some enjoy different styles for different days. So, it's not always ok to mimic how your teacher styles his/her hair. Follow the studio guidelines for your specific class and when in doubt, put your hair in a bun. Let's examine suggestions for length: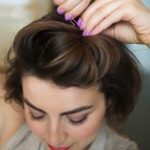 Short hair: Minimal tresses are sometimes tricky. Cosmopolitan has some genius ideas for styling short hair, one of which I like to refer to as the "pouf". Make sure your hair is pulled away from your face by pinning your bangs back in a mini pompadour, braiding the sides, or if you can, securing your hair into a ponytail or half pony. Got short curly hair? There's a fantastic YouTube tutorial for reining in those gorgeous curls into a bun.
Medium/Long hair: Get your hair in a bun! Hair nets and bobby pins are a necessary staple for dancers – use them! If you want to express yourself rather than sticking to a stiff ballet bun, master the braid or try a French twist with a rhinestone barrette secured to the side of your style. Want a foolproof and perfectly coiffed bun? Go for a bun form (available in the ASA Boutique!).
Clothing
Bottom line – follow the studio guidelines. If your preferred place of dance requires specific colors and styles, you are limited in what you can wear, but if you are allowed to explore options, fantastic! Have fun with your attire, express yourself, and get into character for each class – that 's what dance is all about.
Cost – Dancewear can get pricey but if you know where to look, adding to your wardrobe doesn't have to break the bank. Tights are typically not expensive, so stock up and buy in bulk – you'll need lots of tights during your dance career. Hit Goodwill periodically and ask your dance studio where you can buy reasonably priced dancewear. If our students can't find what they need at the ASA Boutique, we refer them to Discount Dance Supply. Got an older cousin or friend who is a dancer? Snag those hand-me-downs!
But don't go crazy out of the gate! Beginner students typically need one leo and intermediates need two. Advanced students who are dancing daily for hours at a time (like college students) need a whole drawer of dancewear.
Shoes
Unless you are in modern or contemporary classes and it's in the studio guidelines that you can be barefoot – you should have shoes on. Even if your teacher is barefoot. While some choreography is set in socks, jazz, tap, ballet, lyrical, contemporary, and pointe – all of these genres have specific styles of shoes.
Questioning the longevity of your shoes? Pitch them when holes start to appear, or if you are a young dancer, when you transition into an intermediate class (from full sole shoes to split sole shoes). Jazz and tap shoe are quite resilient. Follow the rule of stepping up into the next level of class or until you grow out of them.
A dancer can never have enough ballet shoes. At my high point of dance I had 5 jazz shoes, 2 pair of tap, 11 pair of contemporary shoes, 14 pointe shoes, and 15 pairs of ballet shoes. In college I also had 3 pairs of character shoes and one pair of ballroom… That's a lot of shoes!
Accessories
Accessories for dance are the similar to the accessories we wear in everyday life. Picking a fun skirt to pair with a basic leo or adding a flower to your hair is another way to express yourself. Truth be told, teachers sometimes use accessories to help students with technique and posture. Ballet belts and skirts, for example, give instructors body lines to follow while teaching. For younger students, a flower placed in the hair helps them stand a little taller and builds confidence.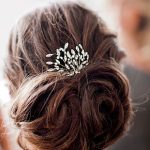 Warm up gear can include leg warmers and dance sweaters, but be advised you will need to remove these accessories after barre work.
If you are fortunate enough to be in hip hop, the sky's the limit in regards to accessorizing! Hats, baggy clothes and pants, and cool sparkly sneakers help you get into character for your piece.
The practice of any form of art gives you the opportunity to express yourself both internally and externally by the way you dress. Teachers do not want to smother this expression yet each studio has their own reasons for the dress code they implement. At the end of the day, it's best to review your studio guidelines when it comes to requirements and then find little ways to bring your signature look to life via accessories and fun hair styles!
Live. Love. Dance.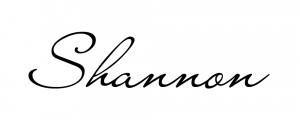 Image credit:
Cosmopolitan and Brides Magazine
Organizing and maintaining dancewear is much easier as a child… because your mom does it! But as you become a seasoned dancer and the responsibility of tending to your own clothing is put on you, it's important to establish good habits.
There are 2 elements to maintaining the longevity of your dancewear, one is organizing and the other is washing and getting rid of the SMELL. Dancers sweat, it's a hazard of the trade, but let's remember that it's not actual sweat that turns up noses. It's the bacteria on your skin that combines with natural perspiration that brings on the funky odor. Here are a few tips to storing and keeping your dancewear in good condition…
Let them come up for air
Take your leotards, tights, socks, and shoes out of your dance bag immediately when you get home. I know, I know, you are tired but you will thank yourself later! Ideally, you should place all items in a mesh bag after you peel them off your body to give any moisture a chance to evaporate on the way home.
Try taking your closet out of the closet
We're talking odor control here. Designate a corner of your room exclusively for a dancewear wardrobe of sorts like these New York closet shelves from Pottery Barn. With space to hang leos, shelves to place shoes, and baskets for tights, all the fresh air to your dancewear will do nothing but good! Hint: hang shelves near a window for maximum fresh air exposure.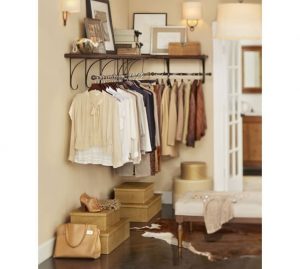 Get organized at home
It is inevitable that you will start accumulating a multitude of dancewear. Not just because you've seen the new styles from the ASA Boutique but because you forgot to wash your tights and you are forced to buy more… Designate a minimum of 2 drawers for your dancewear in middle and high school but bump that up to 7 drawers when you are in college.
Dominate your dance bag
When you are traveling to and from class make sure to get a bag with multiple compartments. Locating your upcylcled bobby pin box is easy when it's housed in a designated pocket of a fantastic bag like this Val Jacobs duffle. Remember to always have extras in your bag – tights, shorts, tank tops, sports bras – you never know what will happen when you are performing. (PS – I've been known to throw a moth ball into my bag to absorb the odor.)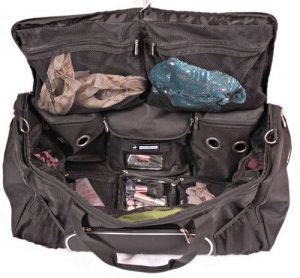 Never use the dryer
Despite what the care label on your dancewear might say, do not dry your leos, rather hang dry to avoid pilling and shrinking. Wash tights in a lingerie bag. Shoes are a little trickier, although you can wash canvas shoes.
If you can, plan your wardrobe day by day and lay it out every Sunday night. I suggest making this a ritual of sorts to get in the rhythm of preparing yourself for a successful week of dance.
Do you have any tricks of the trade when it comes to organizing and maintaining your dancewear? Please share!!
Live. Love. Dance.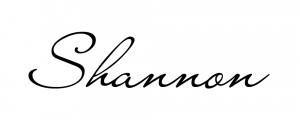 Image credit, Pottery Barn and Val Jacobs