Faculty
Shannon Holst – Studio Owner/Artistic Director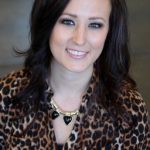 Shannon Holst opened the doors of A Step Above Dance Academy in August of 2010. Starting with just three students in her first class, she has grown ASA into one of the area's most sought after dance programs with a growing number of students and families.
Shannon began dancing at the age of three. She was accepted to train with the Royal Winnipeg Ballet School, where she truly found her passion for Ballet. Throughout her home training, Shannon had the chance to learn from professionals such as Eddy Ocampo, Randy Duncan, Lizzie MacKenzie, Jessie Young, and many more. With this training, she earned National Champion titles and had the opportunity to dance in the New Year's Day Parade in London, England. Along with her rigorous dance training, Shannon was a high level competitive gymnast and spent 4 years coaching recreational and competitive teams, and continues working with aspiring gymnasts on their artistry. She graduated from University of Iowa in 2010 with a BA in Dance, a Minor in Spanish, and a Certificate in Performing Arts Entrepreneurship. Here, Shannon had the privilege of studying under esteemed professionals such as George de la Pena, Eloy Barragan, Deanna Carter, Charlotte Adams, Jennifer Kayle, and Armando Duarte. She danced professionally with several modern companies in both Iowa and Illinois, including Poetic Rebound Performance Company and Fresspace Dance.
Shannon has been teaching for over 13 years and has choreographed countless high scoring and winning numbers. She has been awarded with some of the industry's most prestigious honors, such as numerous choreography awards, the 2015 Choreographer of the Year, and the 2015 & 2016 National Studio of the Year award. Shannon's passion for teaching truly stands out as she strives to make each and every dancer the best they can be, while instilling a true love for the art in every student she encounters.