Organizing and maintaining dancewear is much easier as a child… because your mom does it! But as you become a seasoned dancer and the responsibility of tending to your own clothing is put on you, it's important to establish good habits.
There are 2 elements to maintaining the longevity of your dancewear, one is organizing and the other is washing and getting rid of the SMELL. Dancers sweat, it's a hazard of the trade, but let's remember that it's not actual sweat that turns up noses. It's the bacteria on your skin that combines with natural perspiration that brings on the funky odor. Here are a few tips to storing and keeping your dancewear in good condition…
Let them come up for air
Take your leotards, tights, socks, and shoes out of your dance bag immediately when you get home. I know, I know, you are tired but you will thank yourself later! Ideally, you should place all items in a mesh bag after you peel them off your body to give any moisture a chance to evaporate on the way home.
Try taking your closet out of the closet
We're talking odor control here. Designate a corner of your room exclusively for a dancewear wardrobe of sorts like these New York closet shelves from Pottery Barn. With space to hang leos, shelves to place shoes, and baskets for tights, all the fresh air to your dancewear will do nothing but good! Hint: hang shelves near a window for maximum fresh air exposure.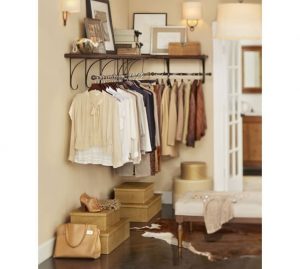 Get organized at home
It is inevitable that you will start accumulating a multitude of dancewear. Not just because you've seen the new styles from the ASA Boutique but because you forgot to wash your tights and you are forced to buy more… Designate a minimum of 2 drawers for your dancewear in middle and high school but bump that up to 7 drawers when you are in college.
Dominate your dance bag
When you are traveling to and from class make sure to get a bag with multiple compartments. Locating your upcylcled bobby pin box is easy when it's housed in a designated pocket of a fantastic bag like this Val Jacobs duffle. Remember to always have extras in your bag – tights, shorts, tank tops, sports bras – you never know what will happen when you are performing. (PS – I've been known to throw a moth ball into my bag to absorb the odor.)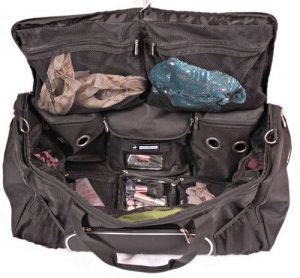 Never use the dryer
Despite what the care label on your dancewear might say, do not dry your leos, rather hang dry to avoid pilling and shrinking. Wash tights in a lingerie bag. Shoes are a little trickier, although you can wash canvas shoes.
If you can, plan your wardrobe day by day and lay it out every Sunday night. I suggest making this a ritual of sorts to get in the rhythm of preparing yourself for a successful week of dance.
Do you have any tricks of the trade when it comes to organizing and maintaining your dancewear? Please share!!
Live. Love. Dance.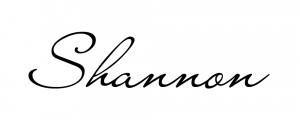 Image credit, Pottery Barn and Val Jacobs