Pre-Professional Ballet Program
Overview 
Ballet is a staple of discipline for dancers.  For those who are serious about taking the next step in their ballet training, we offer a Pre-Professional Ballet Program.  This program is designed for students who may be interested in pursuing a professional ballet or dance career.  The Pre-Professional Ballet Program will provide these young artists with multiple opportunities to develop their technique and artistry in a nurturing classroom environment and an extensive ballet class schedule that requires a higher amount of dedication.  Additional attention is given to musicality, movement quality and anatomically correct work, which is closely monitored and evaluated in order to ensure each student's growth and progress. Those who have achieved proper technique may qualify to participate in pre-pointe, pointe, and variations, in addition to the regular technique classes, as experience in all of those classes are an integral part of a dancer's training. Students will also be required to take conditioning classes designed to help with strength and flexibility to better assist with the development of their ballet technique.  Students wishing to participate in this program must be willing to attend all of the ballet classes required for their level.
Participants of the Pre-Professional Program will go through a certificate and graduate program. Upon completing one full year of training (August-June), students will receive a certificate of completion. Upon graduation from the Certificate Program, students who have satisfactorily fulfilled all requirements will receive from ASA a Certificate of Completion, Certificate of Excellence, or Certificate of Excellence with Honors in recognition of their scholastic and performing achievements. Once a dancer has satisfied their training in a specific level, they will advanced to the next level based on skills testing and recommendation from their instructor along with approval from the ASA Ballet Director.  Students will be required to take annual exams to help grow their knowledge of their ballet training. These exams will also determine the readiness of a dancer to advance to the next level of their training.
Dancers should expect to stay in a level at least 2 years, sometimes even more.  Level placement is at the discretion of the Director of Ballet.
Dancers must audition before the beginning of the school year.  As the Pre-Professional Ballet Program is a year-round program, students are strongly encouraged to start at the beginning of the year to fully receive the most out of the designed program.  A year round syllabus, based on Vaganova style technique, will be taught throughout each level based on various skills, techniques and vocabulary. Performance opportunities may be offered to students in the Pre-Professional Ballet Program and will also perform full-length ballets. Students in the program will be eligible for participation for the Youth America Grand Prix (the world's largest scholarship ballet competition) by invitation and discretion of the ASA Artistic Director and Director of Ballet. Please contact the ASA Ballet Director for this year's required performances and events.
Classes 
ASA Pre-Professional Ballet Program participants will take classes in classical Ballet technique, Pre-Pointe or Pointe, Variations, and Conditioning for Ballet.  In addition to Ballet technique and Pointe, Ballet students at ASA should be open to considering classes in Jazz and Contemporary to build their versatility as a well-rounded dancer.  Other supplemental Ballet classes may be added throughout the year or summer and subject to rotation.
Class Requirements:
Level I students (Beginner) – Required 2 technique classes, 1 conditioning
Recommended additional study: Pre-pointe
Level IB students (Adv. Beginner) – Required 2 technique classes, 1 conditioning, Pre-pointe, 1 contemporary
Level II students (Intermediate) – Required 3 technique classes, 1 conditioning, 2 Pre-pointe/Pointe, 1 contemporary
Level III students (Adv. Intermediate/Adv.) – Required 3-4 technique classes, 1 conditioning, 1 Pointe, 1 Variations, 1 Contemporary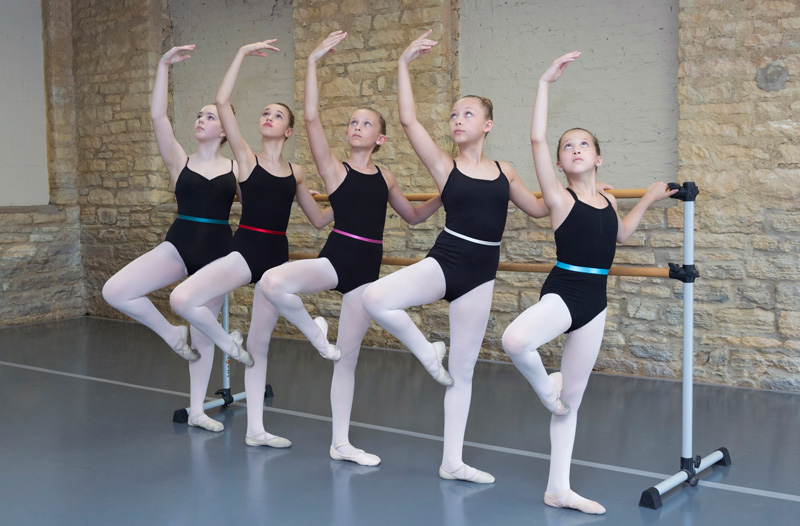 Admission into the Pre-Professional Ballet Program 
Because of the physically demanding nature of intensive classical ballet training, dancers must meet minimum technical requirements in strength, flexibility, coordination, familiarity with classical ballet vocabulary, and overall proficiency in order to participate in the Pre-Professional Program at A Step Above Dance Academy.
New students must attend an evaluation class in order to request admission. Entry and placement is conditional upon available space and the recommendation of the ASA Ballet Director.  Auditions for placement into the program will take place in the Summer for the 2018-2019 school year.
Full-Term Enrollment 
Enrollment in the Pre-Professional Program is by full-season only. To allow for maximum student benefit, families are asked to commit to the entire school year at registration. As a result of attending classes consistently throughout the year, students have the opportunity to learn, review and repeat concepts taught in classes in a manner that promotes long-term retention.  Students are also required to attend a minimum number of summer classes and intensive programs at ASA in order to maintain their level placement and level promotions from one year to the next.
Registration 
Pre-Professional Program registration is open immediately following auditions and acceptance into the program.  Only a limited amount of students, per level, will be accepted. Mid-year applications are handled on a case-by-case basis and upon space availability.
Cost 
An annual acceptance fee of $100 is required, per dancer, upon acceptance into the program.
Pre-Professional Ballet Program tuition is based on class levels and their associated class requirements.