LET'S GET STARTED
WAYS TO REGISTER:
Please click here, call, email, or visit the office during business hours.
ACADEMY RULES & POLICIES:
Please arrive on time and ready for class. If you know you will miss a class, please contact the office ahead of time.
Students should be dressed in the appropriate attire for each class. Attire is indicated on the class descriptions on the website and printed material. Students may be asked to leave class if they are not in proper class attire.
Season registration fee (per family) – $25.00 Dance Year Season, $15 Summer Session
Tuition is NON-REFUNDABLE. No refunds or credits will be given for missed or dropped classes.
Monthly payment plans may be made available with approval from the Artistic Director.
Missed classes may be made up within the same dance year. Absences not made up within the August – June dance year will be voided.
Tuition will be prorated on a weekly basis for students who register within the dance year.
Families who choose the payment option must keep a valid credit card on file with the office. Credit cards will be run automatically for the full amount due or a check must be turned in on the 31st of the prior month before 8:00 pm.
Late fees will be applied for any payments not made on time; $10 will be charged for every day a payment is late.
Returned checks will be issued a fee of $15.00.
A Step Above Dance Academy reserves the right to cancel classes in the event of inclement weather. Make-up class policies apply.
Dancers must be in proper attire and applicable dance shoes. Please visit our website for exact attire requirements.
Multi-Class Discounts applied to total tuition: 3 – 5%; 4 – 10%; 5 – 15%; 6+-20%.
Referral Discount: Refer a friend and receive $50.00 credit.
Students are placed in classes based on age and level. Please call the studio for the advice on the best level that suits you.
2019-2020 DANCE YEAR DATES:
37 Week Year: August 19, 2019 – May 30, 2020
2019-2020 Holiday Closings:
Labor Day: September 2
Halloween: October 31
Thanksgiving: November 25 – December 1
Winter Break: December 23 – January 5
Spring Break: March 30 – April 5
Memorial Day: May 25
Independence Day: July 4
See 2019/20 dance schedule for class times.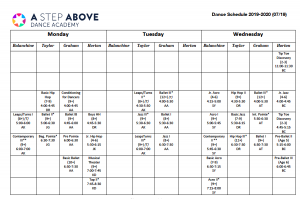 Students are placed in classes based on age and level.  Please call the studio for advice on the best level that suits you.
37 Week Session/Monthly Charge
Tip Toe Discovery
30 min.
$30.00
Pre-Ballet I, II & III
45 min.
$52.00
Junior Levels
45 min.
$52.00
Basic (excludes Ballet)
45 min.
$55.00
Basic Ballet
60 min.
$57.00
Conditioning
45 min.
$55.00
Level I, Teen & Boys
60 min.
$60.00
Level IB Ballet
75 min.
$64.00
Level II (excludes Ballet)
60 min.
$72.00
Ballet II
90 min.
$78.00
Ballet III
90 min.
$95.00
Level III (excludes Ballet)
60 min.
$90.00
Pre-Pointe
30 min.
$38.00
Pointe Beg. & Int.
60 min.
$76.00
Adult Ballet
$20 drop in
Punch Card
$160.00 (10 classes)