What a week ASA Company had at Rainbow Nationals this year! The 30 dancers on ASA Company have worked all year on improving their technique and artistry with 1 goal in mind; to be successful at Nationals and to walk away with 1st place winnings. Not only did they grow into even more beautiful artists this year, they walked away with the BIGGEST win of all! The dancers of "Unknown" (choreographed by me, Shannon Clayborn, danced by Anabella Vodnik, Isabella Villalon, Alexis Schueller, Ella Miller, and Emily Ramirez) claimed the title of Grand National Champion for the Rising Starz Teen Division. They competed against groups from all over the country to claim a 2nd place in their division, and were then invited to re-compete for that coveted Grand National Champion title. They hit that stage and gave it 150%, everything they had they laid it out there. And they're walking away champions!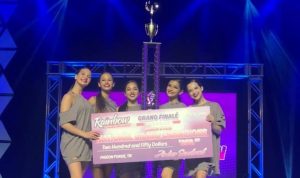 For me, it's a goal I've been working toward for the last 7 years. Every year my dancers grow more and they push me more to create bigger and better movement. They push me to challenge them with more technique and to turn them into not just beautiful dancers, but true artists. Every year I feel like I've accomplished that in one way or another. But this year it felt different. This year, watching not only "Unknown" but all of the girls during the week, I felt like what I've created at ASA has truly given these dancers a place to become the best they possibly can be. We can compete against some of the best dancers in the country and we can walk away Grand Champions. Not only that, but we also came home with an Elite Starz Teen Dancer of the Year Title Winner, and 3 Dancer of the Year Finalists. We took home a choreography award, 17 top 20 overall placements, and that National Grand Champion trophy. The hours that I've put into creating class content, the work I've put in with my fellow choreographers to create a successful program, and the passion that goes into every movement we give these dancers all culminated to end this year on the highest note possible. But the absolute best part of this is that I never shared that goal with my dancers. I never told them that I wanted or expected them to make it to Grand Finale, let alone win. I pushed them to be better because that's my job, but I let them set their own goals. And all year long, the dancers of "Unknown" were dead set that their goal is to make it to Grand Finale and perform to their absolute best. And they certainly did that! I could not be more proud than to know that I gave them the skills necessary to not only achieve their goal, but to far surpass it.
I watched my husband win his first Super Bowl this year. I watched him put the hours in, the long days, the hard days and the fun days, and when I saw him on that field after the game he'd never seemed happier. I wanted that feeling in my own career too, but how do you top winning a Super Bowl?? I guess our equivalent is winning the Grand Finale and that's what we set out to do! A win has never felt sweeter!
-Shannon Clayborn