This holiday season is an exciting time for gift giving and receiving. There are so many ways to gift the dancer and further foster this love of the performing arts. Here are 8 of our favorite expressions of gratitude and love to present to the dancer in your life:
1) A new dance bag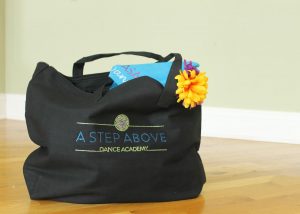 Let's face it – dance gear smells! And no matter how often you clean out your bag or wash your tights, that funky odor never seems to get out of a dancer's bag. A favorite for performers is a bag that has different compartments. Bags with lots of pockets give dancers a place to keep shoes separate from hair accessories and a small snack. (Bag found in the ASA Boutique)
2) A little relaxation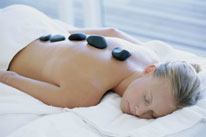 This long holiday break is the perfect time for dancers to rest up and replenish their worn bodies. A massage would be the perfect gift for a serious dancer. In our constant mission to support local businesses, why not try a massage or body treatment (with Aveda products!) from our neighbors at Katrina's Salon and Spa? A hand/foot massage or a deep tissue full body massage is sure to be appreciated and a pedicure would do wonders for sore and calloused feet… (Image credit, Aveda.com)
3) New dance gear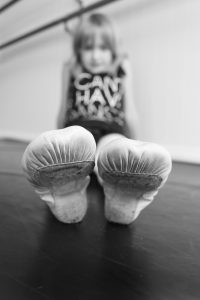 Leotards, tights, spandex shorts, leg warmers, shoes…you name it! Dancers can wear out a pair of tights in no time, so why not fill up their dance drawer with some fresh gear? (PS – the ASA Boutique is stocked with new dance gear!)
4) Hair Accessories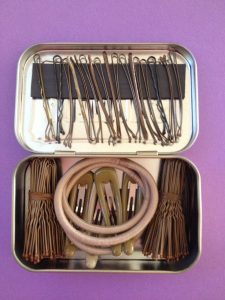 Wearing a bun every day can get boring for a female dancer. Think fun hair accessories like a new headband, bow, or flower. Let's also remember that performers go through hair ties, bobby pins, and hair nets like there's no tomorrow! A box of new hair accessories could be the perfect gift for your dancer OR try upcylcing an Altoids container to create a "Bun Box" like this one we found Pinterest.
5) Books/DVD's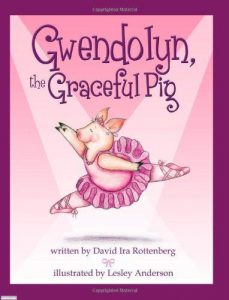 You'd think hours upon hours of being in the studio would be enough for a dancer, right? Nope! Dancers LOVE watching their favorite ballet on DVD in front of a warm fire with some hot cocoa. For the dancer who enjoys reading, why not gift them a book about dance? Some of my favorites are Life in Motion: An Unlikely Ballerina by Misty Copeland, Apollo's Angels; A History of Ballet by Jennifer Homans, and The Ballet Book: Learning and Appreciating the Secrets of Dance by The American Ballet Theatre and Nancy Ellison. For young dancers in the making, why not an Angelina Ballerina book or the whole series of Gwendolyn, the Graceful Pig? (Image credit, Gwendolyn the Graceful Pig website)

6) Dance Inspired Ornaments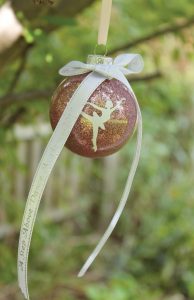 Some of my most cherished Christmas decorations are beautiful dance ornaments. You can find ballerina or pointe shoe ornaments almost anywhere Christmas decor is sold. Want to step it up a notch? Search online for a Swarovski crystal ballerina ornament. I can promise it'll be front and center on your dancer's Christmas tree for years to come. (Christmas ornament available at the ASA Boutique)
7) Private Lessons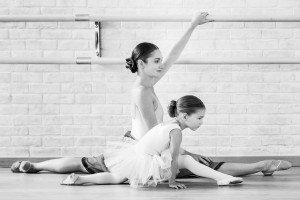 Teachers looooove working individually with students, and dancers can take away so much from a private lesson. Some one-on-one time where your dancer is receiving personal instruction could be just the burst of direction she needs to advance to the next level of performing, or to fine tune skills that have been weighing on her during practice.
8) Studio Apparel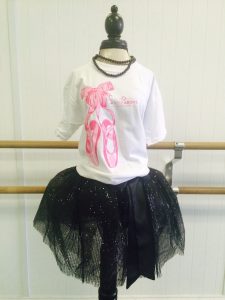 Dancers love to show off where they dance – and there is no better way to shout from the rooftops about your love for your studio than with new studio apparel! T-shirts, sweatshirts, water bottles, headbands, etc., you can't go wrong with custom studio gear. (Image, youth t-shirt available at the ASA Boutique)
Live. Love. Dance.